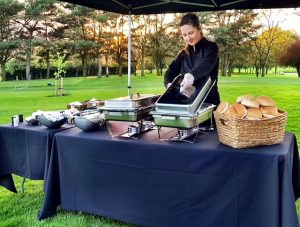 We started our company in the mid-1990s, with the aim of revamping the reputation of hog roast catering and introducing it to a much wider audience with our unique slant and modern menus. The Hog Roast Sunderland team can safely say we achieved our goal of transforming the image of hog roasting, and as a result our services have become just as popular for formal indoor events, as they are for more laid-back outdoor occasions. We have made a lot of people in Sunderland very happy over the years with our fantastic food and excellent standard of service, and we are confident that we will continue to do so for many years to come.
Why Choose Hog Roast Sunderland
Not only can we supply the best hog roasts in Sunderland, we can also provide complete catering packages, with dishes that are just as high in quality and expertly prepared as our slow-roasted pork. From canapes and desserts, to alternative meats or vegetarian option, we can provide anything you could possibly want for your special occasion, whether it be a wedding reception, company conference or birthday party. Here at Hog Roast Sunderland, we cater for diverse tastes and create inventive menus that will be enjoyed by all of your guests. Whichever menu you choose for your event, our team of expert Chefs and Catering Assistants will always prepare everything from scratch at your venue using only the freshest locally-sourced ingredients.
Having the best catering team in Sunderland is what our customers love about us!
How Do We Operate?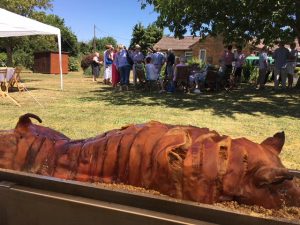 We are a completely self-sufficient catering company and we never require outside help to cook at any venue. We bring everything we need with us and diligently remove any rubbish from the site after your event. Our catering team has the ability to adapt to any environment and serve your meal in a style that suits your event. For larger or more formal gatherings, we can even provide our own waiting and front of house staff to serve canapes and provide table service for your guests. Our experienced event planners will always work closely with you to ensure both the food and service you receive are of the highest standard for your special occasion and meet your requirements to the letter.